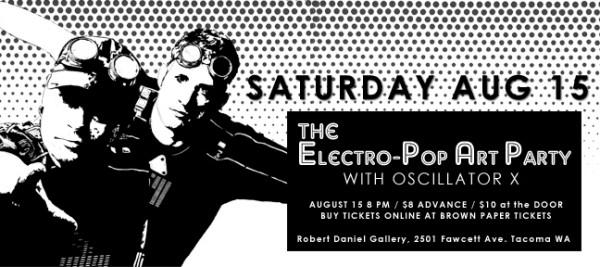 What does Pop art have in common with electronic music?
Pop Art embraced commercial techniques by creating machine produced art. Electronic music embraces technology in place of more organic instruments.
The Electro-Pop Art Party is one you dare not miss – Resistance is futile.
Portland band Oscillator X, fresh from their concert in Europe at the Arcade Dance International Championships in Amsterdam, will provide a world-class performance which includes their own customized light show complete with fog machine and air-powered confetti launchers in Tacoma at the Robert Daniel Gallery during the Electro-Pop Art Party.
The infectious dance grooves of Oscillator X can be heard in several video games including the In The Groove series, the Pump It Up series, iDance, Snake 360, Snowball Runner and others.
Oscillator X's sound is often compared to artists as diverse as Eiffel 65, 2Unlimited, O-Zone and Daft Punk. Unlike many of today's dance acts, Oscillator X is a bona fide band with both members writing and performing all of the music, both in the studio and at their dynamic live shows.
Oscillator X released their first album in late 2008 on their own record label, SCI Recordings. The first single "Dynamo" has hit #1 in several US radio markets including Tacoma's own KVTI I-91 FM & Seattle's C89.5 FM.
Electro-Pop Art Party with Oscillator X
August 15th 8 pm
Robert Daniel Gallery
2501 Fawcett Ave, Tacoma, WA
$8 pre-sale / $10 at the door
Buy tickets now:
http://www.brownpapertickets.com/event/76776
FACEBOOK GROUP INVITE:  http://www.facebook.com/event.php?eid=109314568381&ref=mf