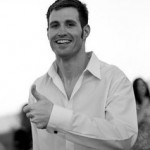 Kyle A. Ward
is a multimedia project leader that is driven with entrepreneurial expertise and dedication.  He is extremely passionate and always makes it a priority to keep extraordinary standards with every project detail.
After receiving an Associate of Applied Arts degree (with honors)  for Video Production at the Art Institute of Seattle, Kyle immediately jump started his media career with Seattle based production company eln Communications.  Here, he was involved with video production for clients such as: Pro Sports Club, Costco Wholesale and TV show "Best of Taste."  It was this opportunity that prompted him towards his passion for production of  multimedia (broadcast audio/video, interactive gaming, internet driven media).   While working with eln, he maintained a freelancing career working with UWTV and several Seattle based video producers needing editing assistance with Final Cut Pro.  While pursuing an overtime Video Production career, Kyle additionally maintained his music production and audio projects which would eventually lead him to opportunities with Roxor Games.

Kyle has involved himself with several community "reaction-based" video game projects such as:  Delight Delight Reduplication, Dance With Intensity and StepMania.  These were notable software project simulators that were based on matching music with synchronized video (products similar to Dance Dance Revolution by Konami Digital Entertainment.   Kyle's music productions lead him to involvement and content authoring  for Roxor Games' In The Groove which later became a staple video game among  global driven dance game communities.
After managing and contributing content towards Roxor Games sequel, In The Groove 2 (in 2004), Playmeter magazine recognized In The Groove 2 as the highest earning arcade dance title ever produced.  Because of market demand, national and world tournaments using the In The Groove software quickly spread.
After the success of the ITG series In 2006, development of Pump It Up Pro with collaboration from Fun In Motion and Andamiro USA began.  During the development, Kyle continued to help support ITG communities and Pump It Up Pro events with collaboration from coworker Chris Foy.
In 2008, Kyle announced his leave from the Pump It Up Pro and children based title "Pump It Up Jump" to help develop, improve and collaborate with Swedish based company Positive Gaming.  It was here that Ward provided several key innovations and interface additions to premier exclusively in Positive Gaming's iDANCE2 software.  iDANCE 2 is an innovative exergame product connecting up to 32 players on wireless dance platforms, while encouraging a social dance game experience for all ages.  iDANCE2 is targeted towards schools, gyms and fitness centers globally.
Recently, Kyle started company Step Revolution LLC where his recent project ReRave & ReRave Plus was launched and conceptualized.  ReRave is a brand new "reaction based" software project that contains patented display methods.  (available for Apple iOS, Arcade and soon to Google Android)  ReRave & ReRave Plus is the first "reaction based" music title to break the barrier of linear scrolling, matching, or multiple mating objects – which have been an essential display method for all rhythm based videogames of the past.
In addition to helping produce dance/reaction based projects, Ward actively co-produces Europop/Electronic band, Oscillator X.  OSX has been featured on several dance outlets and holds an eleven week #1 title with their hit "Dynamo" on Seattle based dance station, KNHC C89.5.  Recently, Abercrombie and Fitch licensed OSX songs:  "The Naughty Song" & "Have A Good Time."  These songs (and others) premiered in Abercrombie retail stores internationally.
Ward enjoys turning dreams and visions into something new and innovative for people to enjoy.   His attention to detail, love for work and dedicated global followers, continue to contribute to much of his success.
Projects:
ReRave (Touchscreen Video Game for iOS & Arcade)
In The Groove (Dance Video Game) 
Pump It Up Pro (Dance Video Game)
iDANCE2 (Multiplayer Fitness & Scool Dance Software)
Oscillator X (Electronic Dance Pop Music)
When not working or producing, Kyle enjoys:  Competitive Swimming, Diving, Racquetball,  Spelunking and being involved with various Electronic/Technology driven projects.  Kyle currently resides near Portland, Oregon in the United States.
Please feel free to contact Kyle or ask a question.
MUSIC:
Kyle Ward's (KaW, Banzai, Smiley, Inspector K, KeeL) productions have been featured on websites such as: MP3.com, Ampcast.com, Audiostreet.net, SonicBids.com, CDbaby.com, Flash Flash revolution.com, Stepmania.com.  Kyle's music is often associated with the dance/music game community.
Musical Influences:
"I love the sound of the 90's!"
European Dance/Pop & Electronic music and other genres such as:
2Unlimited
Aqua
Astral Projection
ATB
ATC (Touch Of Class)
Cascada
Chicane
Darude
Eiffel65
E-rotic – (Lyane Leigh, Lydia Madajewski ; David Brandes)
Fantasy Project
Hixxy
Infected Mushroom
Lords of Acid
KMFDM
Kraftwerk
Magic Box
Mr. President
Nick Ferrando
Orbital
Robert Uhlmann
Robin Rex
Sash! (Sasha Lappessen)
Scatman John (John Paul Larkin)
Scooter
Scott Brown
The Prodigy
Afrocelt
Buddha Bar Collection
Pure Moods Collection
Delirium
Enigma
Enya
Loreena Mckennitt
Putumayo World Music Collection
Akcent
Beatles
Beegees
Daft Punk
Depeche Mode
David Bowie
Fatboy Slim (Norman Cook)
Gotye
Hootie & The Blowfish
Lady Gaga
Madonna
Manheim Steamroller
Moby
Owl City
Pink Floyd
Ramstein
REM
Steve Miller Band
Swedish House Mafia
Tom Petty
U2
NOTABLE ACHIEVEMENTS: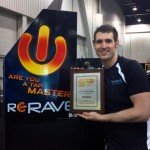 – ReRave Arcade – BEST OF SHOW – IAAPA 2011 – GOLD MEDAL
ReRave – A new music-rhythm touchscreen video game from Coast To Coast Entertainment & Step Evolution. — http://www.rerave.com
– Music Director/Engineer/Step content management of Positive Gaming "iDANCE2" interactive Exergaming dance game series (Fitness/Health) — www.idancegame.com
– Music Producer/Audio Engineer/Content Manager of "Pump It Up PRO" & "Pump It Up PRO Encore" Dance game series (Arcade) — http://www.andamiro.com
– Music Producer/Audio Engineer/Content Manager of "In The Groove" Dance game series (Arcade/PS2/PC&MAC) — http://en.wikipedia.org/wiki/In_the_Groove_(series)
– Synthsations – #1 selling CD of all time– http://www.ampcast.com  (closed in 2003)