I'm very pleased to announce that iDANCE was recently nominated for a European Gaming award.  We will find out more details after the awards ceremony in Frankfurt Germany tomorrow! (November 6th 2009)
- Eleven games have been nominated for the European Innovative Games Award (EIGA) 2009, another eight titles compete for three sponsorship awards, worth 5,000 euro each.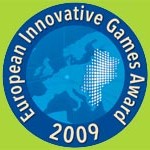 Competing for EIGA category "T – Innovative Technology" are "Nintendo DSi" by
Nintendo of Europe, "ICON" by KOMPAN, "CryENGINE 3" by Crytek (all: Germa-
ny), and "Positive Gaming iDANCE" by Positive Gaming AB from Sweden.
More Info can be found at:
http://www.innovative-games.eu/mm/EIGA_2009_Shortlist_PM_4.pdf