ReRave is off to a great start!  In just a week of time we've already achieved what was never thought possible.  You can get the game HERE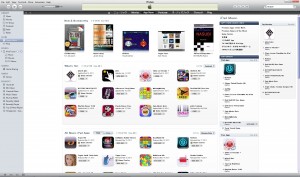 ReRave has reached number 1 Music Game iPAD status on the Apple App store in Japan and is currently 4th grossing Music game.  (as of 3/26/2011)
ReRave is being featured in 3 different categories: Games (overall) , Games (Music) , Games (Top Paid)
This is actually a very outstanding accomplishment to have in almost 1 week after the game release.  We have OVER 2,000 registered users in Game Center! The release continues to build as we share excitement from our past involvement with In The Groove, Pump It Up Pro, and Positive Gaming iDance2.  We never thought we'd see the day of success in Japan.  It's a great feeling to see and a reminder that hard work does pay off.  WOOOOO!
In addition to the Japanese success we've accomplished other notable charts such as #1 iPAD in USA and even top grossing in other countries.  All of these small successes continue to build and help spark our development in both Amusement and Android platforms that we hope to announce at a later date.  We hope to have more advancement in these areas soon and will keep everyone updated.  Big thanks to all of our friends and family who have supported us along the way with this HUGE project.  It's nice to see the world starting to respond so well!
We look forward to the future of ReRave.